St. Michael Catholic Church
Religious readings often speak of rebirth and renewal. If the pipe organ in St. Michael Catholic Church, located in Worthington, Ohio, could speak words, it would say that it has experienced a renewal of sorts. As we journey through the history of the organ and its chambers, we'll see many areas where a new life has been given to this instrument.
Parish History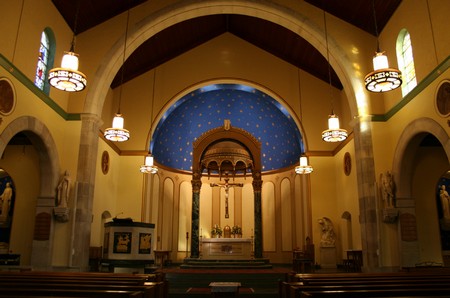 St. Michael Parish was established in 1948 in the north Columbus suburb of Worthington. The city is named after Thomas Worthington who is known as being "The father of Ohio statehood". In its early years the parish met for Mass services in a number of locations in the area, including a "domed metal GI style quonset hut". Ground was broken for the current church building in 1962 with the first Mass celebrated on June 12, 1964. (reference: St. Michael web page, http://www.saintmichael-cd.org/about-smc/)
The Organ
Like many pipe organs, the three manual, 36 rank pipe organ has had an interesting history. The organ, built by the Schantz Pipe Organ Company of Orrville, Ohio in 1975, was originally installed in First Church of Christ Scientist in Akron, OH. The Akron church building was purchased by the University of Akron in 1988 during its campus expansion. The university had no use for the organ and it allowed the church to place it up for sale. St. Michael purchased the organ for its church (which never had a pipe organ), and installed the organ in 1989. Despite the fine acoustics of the church, the organ was fairly under-voiced for the large worship space.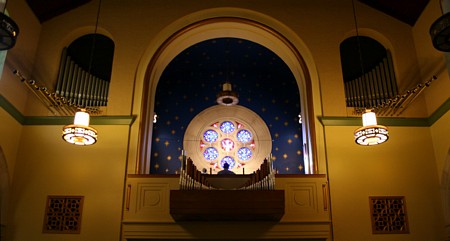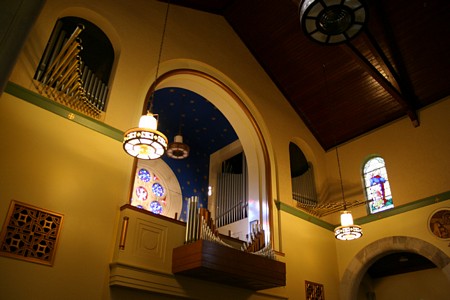 In 2008 the console began to show signs of age and a rebuild was in order. The Muller Pipe Organ company, who had been servicing the instrument, submitted the winning bid for rebuilding the console and enlarging the organ. The project would include an overall re-voicing and tonal adjustment of the organ, additional ranks of pipes to increase the organ's volume and capabilities and a rebuilt console.
During the project, Muller did their best to ensure that at least a part of the organ was available at all times. For the most part, only one division of the organ pipes at a time was removed from service. Work was completed in October 2009. A dedication ceremony and recital took place on November 8, 2009.
Credits and Links
Thanks to Ron Barrett, Director of Music at St. Michael, for his time and for providing information on the organ. Ron was always more than eager to demonstrate the capabilities of the instrument! Thanks also to Scott Hayes of Muller Pipe Organs for his technical assistance.
---