Sometimes great things come in small packages, and, well, sometimes great things come in big packages. In the case of the two manual, 25 rank Schantz pipe organ at Holy Family Catholic Church in Columbus, OH, great things come in medium sized packages. The pipe organ's moderate size makes it a great fit for the room in which it speaks into. And unlike many pipe organs built in the late 1970s/early 1980s, its resources allow it to support musical repertoires other than thinner baroque sounding music. As we shall see, there's more to see than meets the eye.
Parish and Church History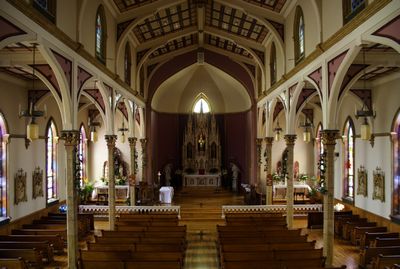 Holy Family Catholic Church is one of the gems of the west Columbus neighborhood called Franklinton. Located just west of downtown Columbus on U.S. Route 40 (also known as "The National Road"), Holy Family parish was established in 1877 with the current church dedicated in 1889. It is the only parish in the Diocese of Columbus to have a regular Latin Mass using the pre-Vatican II Roman missal. Holy Family parish also supports
a large soup kitchen
feeding over 700 people each day, and the
Jubilee Museum
which contains many sacred relics, primarily from the Catholic faith.
Pipe Organs at Holy Family
The current Schantz pipe organ pictured above was installed in 1981. This is at least the second pipe organ to take residence in the loft of the current church building. This organ replaced a small Page theater pipe organ which now resides at Holy Cross Catholic Church in Columbus, OH. The Page pipe organ, which was built in 1928, was installed in Holy Family in 1947, complete with its original brilliant white theater style horseshoe console. While it is likely a pipe organ preceded the Page, there is little substantial information to confirm such a claim. The Schantz is maintained by local pipe organ builder Peebles-Herzog Pipe Organs.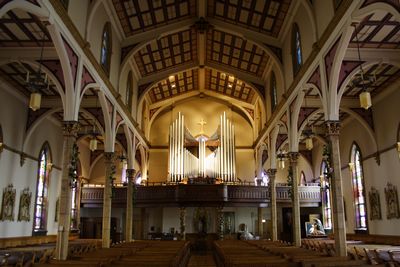 ---